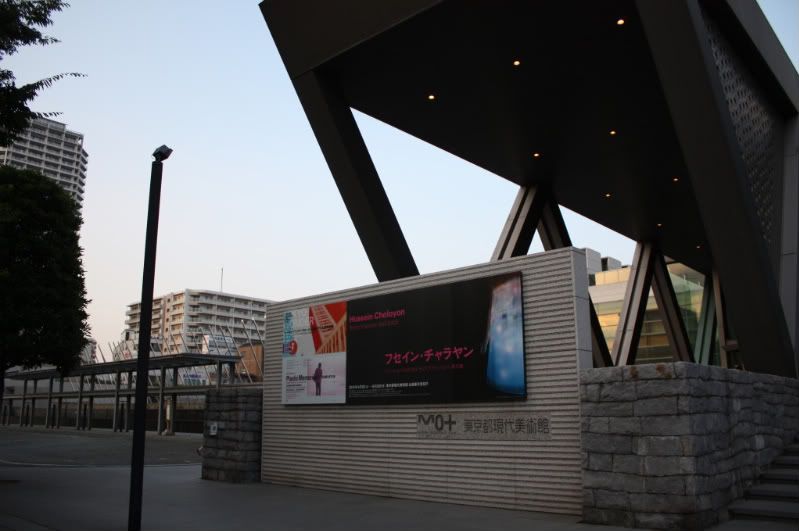 I finally made it to the Hussein Chalayan exhibit! I wrote about the exhibit before it started and it was too bad I couldn't go earlier.
やっと行ってきました。東京都現代美術館で開催されているフセイン・チャラヤン展。いち早くここで紹介していたのですが、見に
行くのが終了間際になってしまって残念。
In an interview, Chalayan has stated that he's more like a fashion artist than a fashion designer and I think this exhibit displayed that well. It is definitely
not just a retrospective of his past collections, but an installation of his artwork. I was especially surprised by the amount of films on display. Chalayan incorporates so many ideas and topics in his work, and I found it quite difficult to wrap my head around the underlying meaning of his films. Another reason to go to an exhibit as soon as it starts--so that there's time to go again. I wish I could go re-watch the films and try to deepen my understanding. They were very interesting and thought-provoking to say the least.
My favorites were "After Words" (Autumn/Winter 2000) and "Absent Presence" (short film, 2005). I definitely recommend watching the video for "After Words". Chalayan was "inspired by the plight of the refugee and the horror of having to leave one's home suddenly in times of war". I won't go into details here but watching the furniture transformed into clothing and ultimately leaving the room still and lifeless was an extremely powerful image.
Tilda Swinton plays a biologist in "Absent Presence", which "explores the neurosis and paranoia surrounding the issue of terrorism, inspired by the introduction of 'hard line' policies on immigration and the resulting suspicion surrounding foreign individuals". I felt that this was easier to understand than the other films and watching different scenes on five screens at once created an amazing effect. This is an extremely relevant topic to our society today and it makes you wonder if this is the kind of future that awaits us.
自分はファッションデザイナーというより、ファッションアーティストであるとインタビューで語ったチャラヤン。まさにそれを上手く捉えた展示だったな、という印象です。過去のコレクションのアーカイブ、というよりアートインスタレーションって感じですかね。映像作品が多くてびっくりしました。チャラヤンの作品は歴史や科学など、本当に幅広い分野を取り入れて、どの作品も何回でも見たいと思うものばかりでした。見る度に必ず新しい発見がありそうな気がする。
個人的に好きだったのが「アフター・ワーズ」(秋/冬2000)と「不在の存在」(短編映画)。「アフター・ワーズ」は難民の苦境から着想を得たコレクションで、部屋の中の家具が洋服へと変化するところが印象的。最終的に部屋には何もなく、空虚さだけが残る。空っぽになった部屋は静かに、でも強く訴える、パワフルなイメージ。
「不在の存在」は女優のティルダ・スウィントンが出演していましたね。日本も変化していくなか、これからはどういう社会になるのか。この短編映画みたいな日がいつか訪れるのか。色々考えさせられました。
I felt that Chalayan is depicting conflicts and themes that are actually connected strongly to our lives. I could only be amazed at Chalayan's ability to show those conflicts and themes through fashion.
私達の生活や人生にも関っている問題やテーマをファッションで表現しているのかな。複雑な感情、トピックをファッションで表すチャラヤンの作品から衝撃、刺激を受けるばかりでした。
Museum of Contemporary Art Tokyo
4-1-1 Miyoshi, Koto-ku, Tokyo
The quotes describing "After Words" and "Absent Presence" is from the official book. Click to read more on what I thought about the official book...
オフィシャル本についての感想は下をクリックしてください。
The official book is very nice--it goes through all of the installations and includes an interview between Chalayan and Yuko Hasegawa (the chief curator of MOT), both in Japanese and English. What I found incredibly disappointing though, was that the English version of the interview was written terribly. The grammar was incorrect and the style was unpleasing. It did not flow at all and I couldn't get through the whole interview.
In Japan, English is used incorrectly in a lot of places and I'm always shocked that it doesn't get corrected before being published/opened to the public. The exhibition was really wonderful and as I said, the book itself is lovely, but it totally let me down to see these errors. Maybe this is unimportant to most people, but I appreciate it when you can see and feel that a work has been executed impeccably, when you know that something has been looked over countless times to ensure perfection. I think it's normal to expect that kind of quality from a book that is widely published. Has anyone purchased this book/read the interview? I'd love to hear opinions.
この展示のオフィシャル本は、インスタレーションの説明と、チャラヤンとMOTのチーフキュレーターの長谷川祐子さんとの対談が日本語と英語で収録されています。写真もよし、サイズもよし、と全体的にはよいのですが対談の英語訳がとてもよい英語とは言えず、非常に残念でした。読み始めた瞬間から違和感を感じました。文法的に間違っている箇所が多く、文章がスムーズに流れてない印象を受けました。
せっかくいい展示、いい本なのにこのようなミスがあると本当に残念に思います。公式に出版、公開されるものでも英語ミスが多いでよね。文章に限らず、作ったものは何回も何回も見直し、完璧なものを目指す努力や熱意は大切だと思います。特に、出版され、多くの人に読まれるものは、これくらいのクオリティが当たり前なのでは。購入された方、対談を読まれた方、ぜひ意見を聞かせてください!