Museum of Contemporary Art Tokyo (MOT) has some amazing exhibitions going on right now.

The first one, "Luxury in Fashion Reconsidered", explores luxury from the 17th century to today: how luxury and the way people think has changed throughout time. The pieces on display are Chanel, Dior, Balenciaga, Yves Saint Laurent...to name a few. 

東京都現代美術館の特別展示ーファッション好きにはたまりません。
17世紀の貴族の時代から現在までの服を通して、ファッションのラグジュアリーや人の価値観の変貌を見ることができます。作品はシャネル、ディオール、バレンシアガ、イヴ・サンローランなど...充実したラインアップ。
Including the 2008 Spring Summer Balenciaga one...
Photos weren't allowed, so a peek from the official book "Luxury in Fashion Reconsidered":
写
真撮影禁止だったので、パンフレット"Luxury in Fashion Reconsidered"から。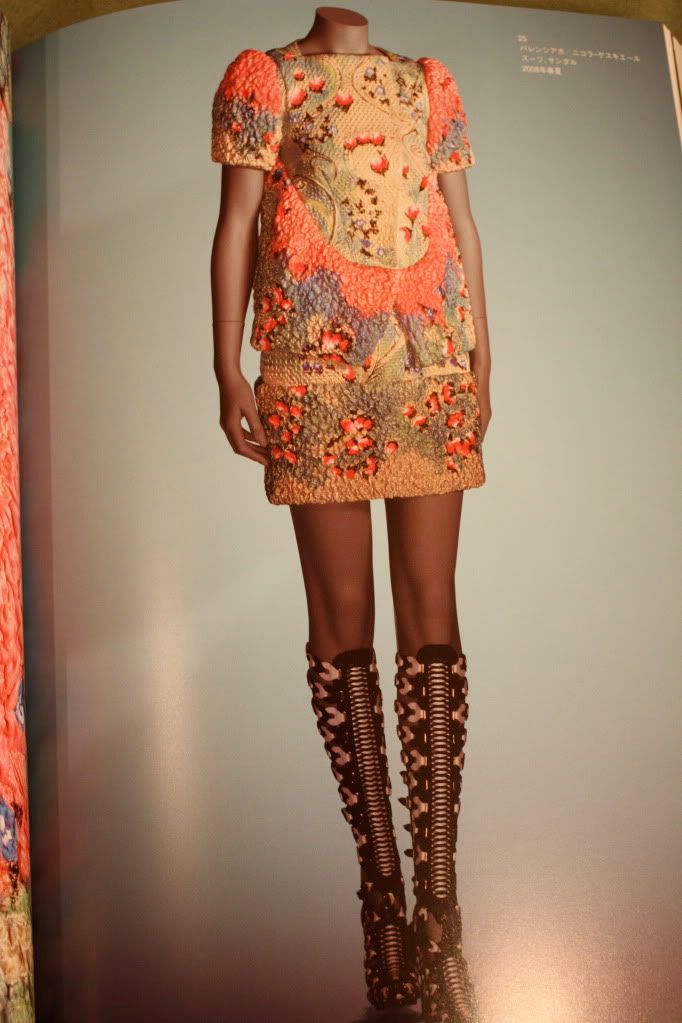 There were also a lot of Margiela pieces. 
The special exhibit within the "Luxury in Fashion Reconsidered" was the "Kazuyo Sejima Spatial Design for COMME des GARCONS". The other (separate) exhibit was "Rebecca Horn Rebellion in Silence Dialogue between Raven and Whale".
このラグジュアリー展のなかの特別展示が"妹島和代による空間デザイン COMME des GARCONS"。そしてもう一つの別の展示が"レベッカ・ホルン 静かな叛乱 鴉と鯨の対話"。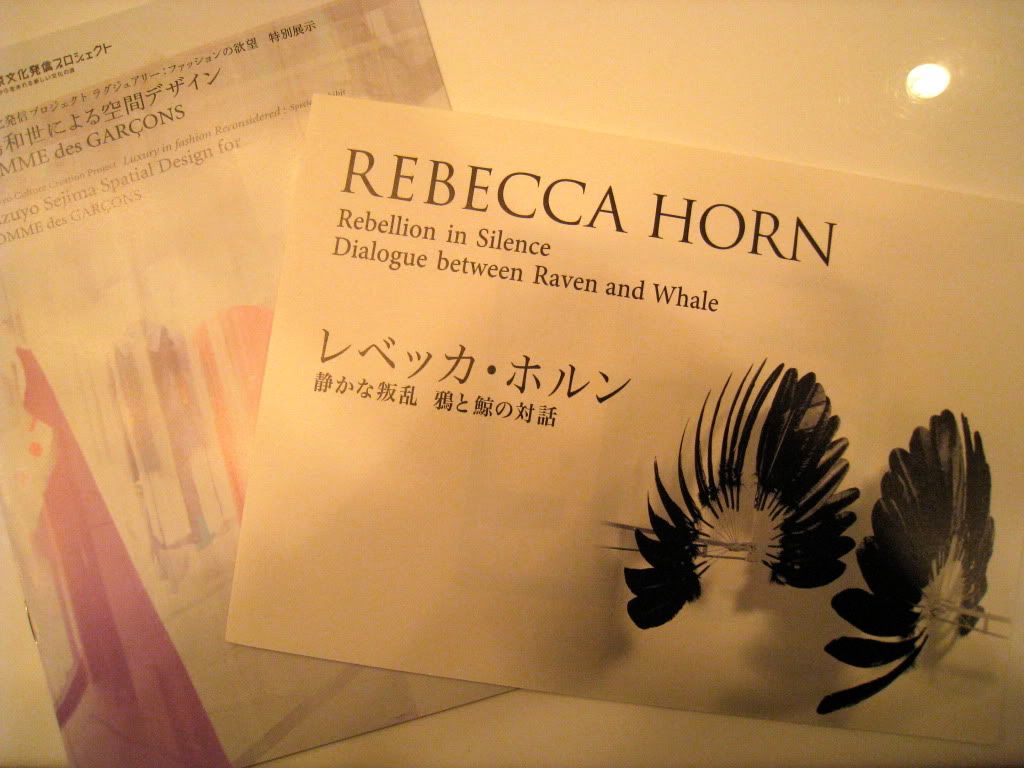 Rei Kawakubo and Kazuyo Sejima's creations fit perfectly together. Words aren't enough to express this, so go see it for yourself! 
川久保玲さんのお洋服が、妹島さんの独特なクリエーションにつつまれていて...これは自分で体感するのが一番!日本ならではの発想や世界観だと思います。
I don't know too much about modern art, so I didn't know about Rebecca Horn until this exhibit. 
It's quite hard to grasp what she's trying to express, but I was totally pulled into her world. I wonder what goes on in her mind, how her pieces are born...it's probably possible to spend days watching her exhibit. 
それほどモダンアートに詳しくないから、今回はじめてレベッカ・ホルンを知りました。
衝撃的で...理解できないけど、思わず見入っちゃう。どんなことを考えて、このような作品が生まれたのか、すごく気になる。動く作品や映像もあって、多分1日いても足りないと思う。もう一回見に行きたい。
Next to the Rebecca Horn exhibit was "Swedish Fashion--Exploring a new Identity", a collection of clothes designed by Swedish designers.
レベッカ・ホルンの展示の隣にあったのが、"スウェーディッシュファッション−新しいアイデンティティを求めて"という、スウェーデンのデザイナーの展示。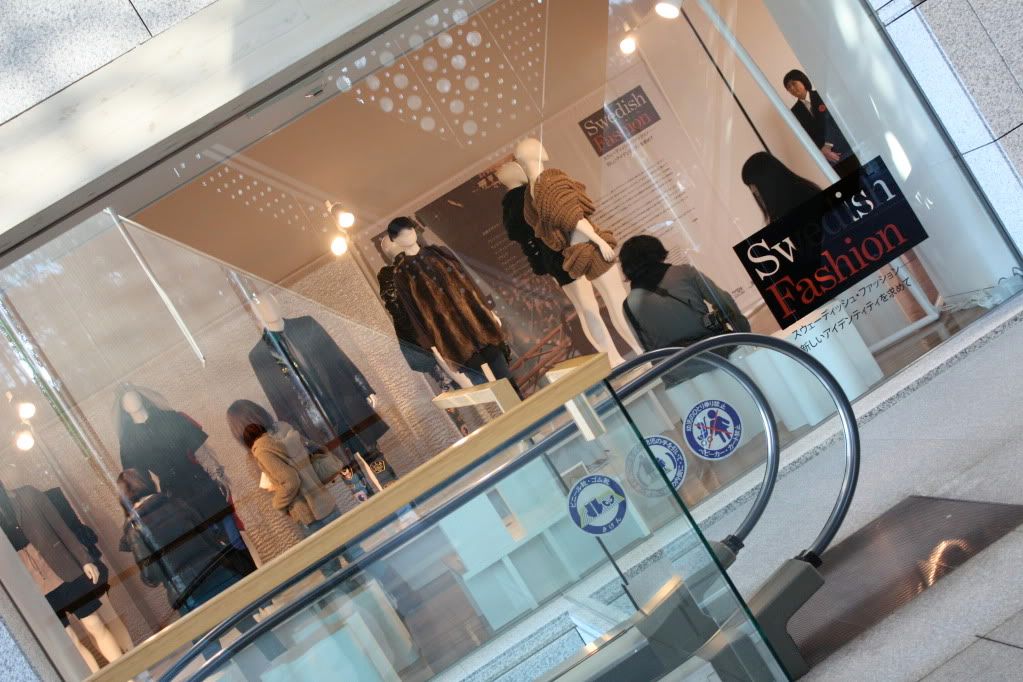 With H&M a big success in Japan, I think Japanese people are more interested in Sweden and Swedish culture. There was a lot of variety--knits, architectural jackets to name some.
今年はH&Mがオープンしたり、スウェーデンに興味を持った方も多いのではないかな。ニットや立体的なジャケットなど、ヴァラエティ豊で楽しめました。
All of the exhibits are really worth seeing. The museum was surprisingly not very crowded, so you can really take your time and look all you want.
本当に見応えたっぷりな展示ばかりです。この間のメアリー・ブレア展みたいに混んでいなかったので(日本人はやっぱりディズニー好き!)ゆっくり見れるはず。
Museum of Contemporary Art Tokyo
4-1-1 Miyoshi, Koto-ku, Tokyo
Luxury in Fashion Reconsidered and Kazuyo Sejima Spatial Design for COMME des GARCONS: ~1/17 
TEL: 03-5245-4111

"ラグジュアリー:ファッションの欲望"&"妹島和代による空間デザイン COMME des GARCONS":~1/17