Select shop BEAMS has teamed up with England's Rockarchive.com for its first exhibit in Japan at EYE OF GYRE in Omotesando. Rockarchive.com sells "limited edition rock and roll photographic prints" and among the photos on display and available for purchase were Madonna, Oasis, Jimi Hendrix, and special edition Courtney Love photographs specially taken for this exhibit. 
It's a small exhibit, but a must see for any rock fans out there!
By the way, GYRE is a really stylish building that has Chanel, Bvlgari, Maison Martin Margiela, COMME des GARCONS Play Box and the MOMA Store all under one roof. It also has a really yummy bakery, restaurants, tea store and the building itself is pretty amazing--more pictures coming soon!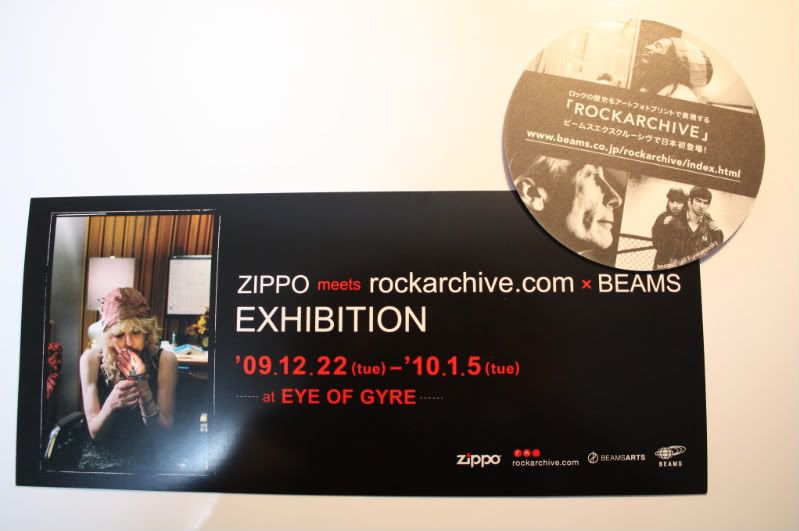 イギリスのロックアーカイブがセレクトショップBEAMSと日本での初めての展示と販売が今表参道のEYE OF GYREで開催中。マドンナ、ジミヘン、ビートルズなどたくさんの偉大なミュージシャンなどの写真があって、小さいけど見応えたっぷり!もちろん流れている音楽も最高。展示が終わってもロックアーカイブの写真は原宿のInternational Gallery Beamsで購入可能らしい。
知っている方も多いと思うけど、GYREはキャットストリートの手前にあるめちゃくちゃお洒落なビル。シャネル、ブルガリ、メゾンマルテンマルジェラ、ギャルソンのPlay Boxが揃っています。そして地下には美味しいパン屋さんとか、お茶屋さんとか...ビル自体も素敵だからまた写真アップします!
Zippo meets Rockarchive.com
×BEAMS Exhibition
EYE OF GYRE 5-10-1 Jingumae, Shibuya-ku, Tokyo GYRE 3
F
Exhibit: 2009/12/22~2010/1/5, 11
:00-20:00 (12/31: closes at 18:00, 1/1: Closed)
Zippo meets Rockarchive.com
×BEAMS エキジビジョン
EYE OF GYRE
東京都渋谷区神宮前5−10−1

GYRE 3F
展示

:
2009/12/22~2010/1/5, 11

:00-20:00 (12/31:

 

18:00

クローズ、

1/1

: 

休館日

)