all photos from
Drop Snap
This month's Fashion News (magazine):
T
he title reads, "Find the 'world standard' Japanese Brand! 95 brands to take note of". I've recently read an
interesting article
 I found on
Style Bubble
from the New York Times. It points out that most Japanese fashion brands, even the popular and critically acclaimed brands are little known overseas, despite the increasing popularity of Japanese street style. Even though I live in Tokyo, I feel like there's a distance between Japanese fashion brands and consumers, especially the ones that are expensive. 
写真通りですが"世界基準のジャパニーズブランドを探せ!!注目の95ブランドはこれだ"ー日本のブランドの大特集です。そして最近ニューヨークタイムズで
面白い記事
を読みました。日本のスナップは海外でもよく知られていてるのとは逆に、国内で人気・評価の高いブランドでも日本以外では無名、というケースがほとんど。東京に住んでいる私でさえ日本のブランド(特に高めのもの)とは若干距離を感じます。
The magazine reads, "Find the 'world standard' Japanese Brand", I think Japanese brands have reached that (whatever they mean by "world standard"...). One thing that Japanese brands must do is take more advantage of the Internet. Japan is way behind when it comes to using the Internet to communicate. Twitter is slowly catching on (on a completely random and unrelated note, can you believe that the
Prime Minister of Japan
is on
Twitter
?!), but it hasn't been a huge movement like it was in the States, and online shopping is still a relatively new concept; no one around me shops online. I find it hard to find official sites, lookbooks, and overall information about Japanese brands online. Has anyone felt this too? I would love to hear your opinion--do you wish that more Japanese brands would expand overseas, are you interested in what kind of stores/brands are popular in Japan, do you have a favorite Japanese brand? Let me know what you think!
雑誌には"世界基準のジャパニーズブランドを探せ!!"とありますが、日本のブランドはその基準(というか世界基準とはどんな基準なんでしょうか...)まできていると思います。ただ日本のブランドはインターネットをフル活用してないと思います。Twitterも最近根付いてきたばかりだし(鳩山総理が
Twitter
使っているなんてびっくり!)、オンラインショッピングも結構新しいですよね。少なくとも私の周りには洋服や靴をインターネットで買う人はいません。インターネットを使ってコミュニケーションをとる、と行った面では完全に遅れています。ブランドのオフィシャルサイト、ルックブック、情報なども見つけにくい気がするし、あまりオープンではない気がします。皆様はどう思われますか?日本のブランドはもっと海外上陸するべきか、インターネットの使い方、ブランドの広報とか何でも!ぜひぜひ、皆様の意見をお聞きしたいです。お気軽にコメントでどうぞ!
And to end my ramblings, my favorite collections from the magazine:
この駄文をお読みいただき、ありがとうございます...雑誌から、個人的なお気に入りを: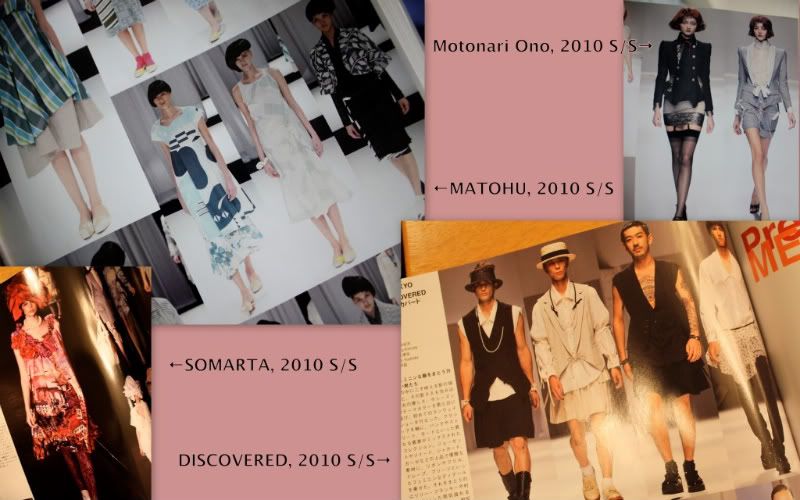 You can probably tell from the photos, but I photographed my favorites from the magazine. 
Technical question

: does anyone know why Blogger cuts off my pictures on the side? As you can see, both collages are cut off but it looks fine when it's on preview and also the thumbnails on Bloglovin'. Any help would be greatly appreciated!
Update 1/15
: Thanks to the lovely Sushi of
Le blog de Sushi
, this problem has been solved!