It is true that print media is not selling well--popular Japanese magazine PINKY has stopped printing and I'm sure this is the case in a lot of countries. But there's one publisher, Takarajimasha, who is doing very well with their "mooks".
"Mook" is magazine and book put together (I know, great naming) and the recent ones feature a magazine and a supplement. There are so many different kinds of mooks today--Marc by Marc Jacobs, YSL (cosmetics), SEE BY CHLOE, Vivienne Westwood, A BATHING APE...the list is endless. A typical magazine inside a mook for example, the Marc by Marc Jacobs one, consists of the full collection, a look at the individual pieces, an editorial, and more. The supplement is almost always surprisingly well made, and I use my Marc by Marc tote almost every day. All this, and the price is under about 20 dollars. 
雑誌が売れない中、非常に人気があるのがムック本。最近は人気のマーク BY マーク ジェイコブス、SEE BY CHLOE、イヴ・サンローランなど、ブランドのファンにはたまらにものがぞくぞくと販売されています。日本の付録は高品質だし、もちろん雑誌の部分も読み応えたっぷりでその上お手軽な値段。しかも外国では雑誌に付録がつくのは少なく、日本限定のものが手に入ったりします。特にマーク BY マーク ジェイコブスなど、海外でも人気のブランドの付録を海外で持ち歩いているとうらやましがられる、なんて話も聞いたことがあります。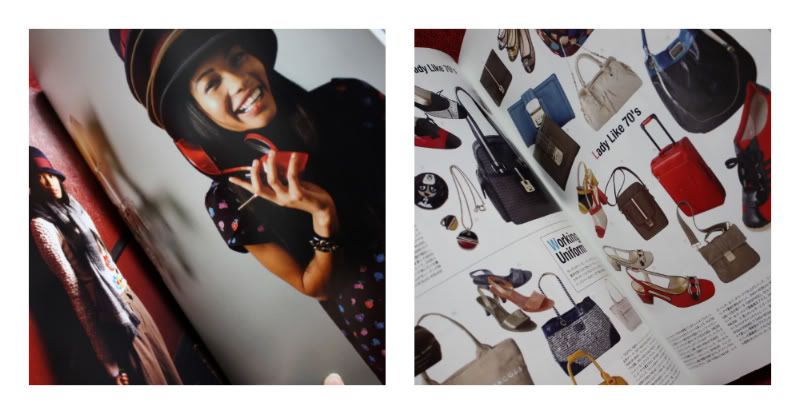 The latest Mook to be released on March 3 is the Marc by Marc Jacobs 2010 S/S collection.
こんなにメジャーな海外ブランドがムック本になるのはちょっと抵抗があったけど、安さと可愛さに負けなんだかんだいって購入してます。そんなムック本の最新がこちら、3月3日発売のマーク BY マーク ジェイコブス2010年S/Sコレクシ
ョン。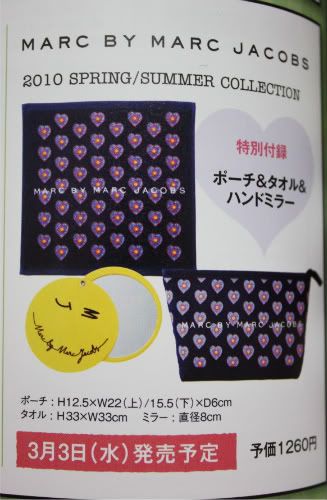 The supplements this time consists of a make-up bag, a handkerchief, and a mirror. All this for under about 15 dollars sounds pretty good to me...and I've been pleased with the past mooks so I'm considering buying this one too. What do you think about mooks? Would you buy it?
今回の付録は書いてある通り、ポーチ・タオル・ハンドミラー。これで1500円以内なら、また買っちゃうかも...
To see a complete list of mooks, go here.
今まで発売されたムック本のリストはここからどうぞ。