I'm always looking for a new cafe to add to my list of favorites. Recently I went to BiOcafe at Spain-Zaka (a famous street that translates as Spain Hill) in Shibuya.
渋谷中心に常に新しいカフェやレストランを探しているんですが、渋谷って意外とカフェ発掘が難しい気がして...そんななかで最近一番気に入ったスペイン坂のBiOcafeを紹介。実は同じくスペイン坂にあるカフェ/バー人間関係プロデュースのお店。人間関係はよく行くけど、この間初めてBiOcafeに行ってみました。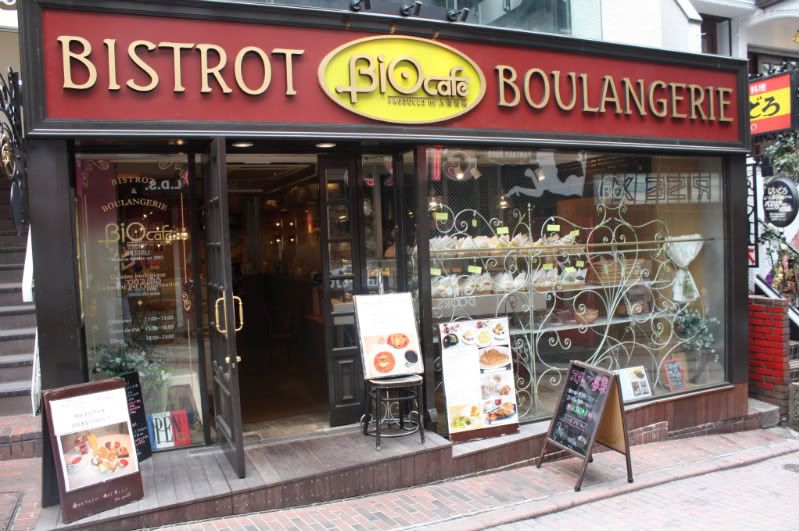 BiOcafe, as you can probably guess from the name, is a cafe with food that you actually feel good eating. Their food is filled with organic vegetables, soy milk, cereal plant and all the healthy things that include minerals and nutrients that we don't get enough of these days.
Biocafeは"食べてキレイになるカフェレストラン"がコンセプト。どうしても不足してしまうミネラルや栄養素。有機野菜、雑穀、豆乳などでおいしく健康的に食べられるカフェです。
This is what I had when I went to BiOcafe for lunch. I don't remember the exact name, but the tomato soup included beans and little bits of pasta. Topped with fried (but not greasy) fish and the sweetest onion, it was the perfect comfort food. My lunch also came with brown rice, herb tea, and a small desert. The brown rice here is so good, you have to try it!
トマトスープの中にお豆や小さなパスタ、お魚と甘ーい玉葱を添えて。後ろに写っている玄米、本当においしかったです!ご飯は残してしまうことが多い私でも、ペロっと食べてしまいました。その他にハーブティーと小さなデザートがついて確か、950円だったかな。値段も量も満足!
The store is nice and cozy. I have yet to try but the wild yeast bread is supposed to be really good too.
居心地のいい店内。天然酵母のパンもおいしいらしいです。
16-14 Patio I Udagawa-Cho