Though I actually don't regularly listen to Lady Gaga's music, I really admire her aesthetic and how she is truly passionate about fashion. Lady Gaga was in Japan this past weekend for The Monster Ball Tour but also appeared on popular TV show Music Station and also performed at a secret show hosted by M·A·C.
I can't find any photos of her at Music Station and the videos on You Tube have been deleted already...but for both Music Station and the secret show, she wore a lot (if not most) of pieces from Japanese designers. I love that she wore Japanese designers because I don't feel like many Japanese musicians/actors/etc. support young, independent designers.
実はあまりレディ・ガガの音楽は聞かないんですが、彼女の性格やファッションに対する気持ちなどとても素敵だと思います。ツアーの他にミュージックステーションの出演やM·A·C主催のシークレットライブもありましたね。
いつも話題を呼ぶレディ・ガガの服装ですが、ミュージックステーションでもシークレットライブでも日本のブランドを着てました!地元、若手のアーティストをサポートする姿勢もレディ・ガガが好きな理由の一つ。日本のアーティストや芸能人がこういう形でサポートするのは本当に少なくて残念...
Lady Gaga wore a lace bodysuit from SOMARTA's (briefly mentioned
here
) 2nd Skin Series for both Music Station and the secret show.
ミュージックステーションでもシークレットライブでもSOMARTA(
ここ
で軽く触れてます)2nd Skin Seriesのレースのボディースーツを着用。
At Music Station, she wore a black version that was sparkly and less see-through than this one. According to GagaDaily.com, the body suit is decorated with 20 thousand Swarovski crystal beads and takes 5 months to complete!
ミュージックステーションはこの写真のボディースーツにスワロフス
キーのクリスタルビーズがついている感じでした。GagaDaily.comによると、ビーズの数はなんと2万個で、作るのに5ヶ月かかるそうです!
Some of you may remember seeing a similar design from this post here. These are from NORITAKA TATEHANA, and Lady Gaga wore them on Music Station and posted a photo on her Twitter.
ミュージックステーションやレディ・ガガのツィッターでも見かけたこの黒い靴も日本のブランド。以前紹介したNORITAKA TATEHANAのものです。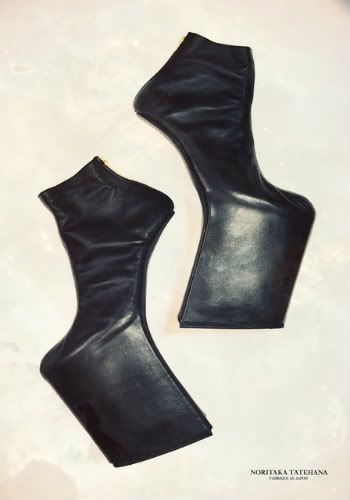 These shoes were custom made for Lady Gaga. I feel lucky that I had the chance to see his collection in person!
この靴はカスタムオーダーだそうです。以前生でコレクションを見る機会があってラッキーでした!
To see more of these designers: